Round 2 Group Buy Dates: June 27 - July 25 2022

Designed by jr2417 x r00dy
"We thought it would be cool to design a wrist rest that matched the profile of a board. There are a lot of Vegas out there. We thought some people might be interested."
- jr2417 & r00dy
Vega Wristrest Specifications:
Material: Aluminum
Colors: E-White, Black, Silver (Raw aluminum with a clear coat)
Angle: 6.5 degrees
Depth: 80 mm
Feet: 4 adhesive rubber feet (Note: the height matches with the rubber feet on)


Fulfillment: Late October/Early November 2022

Why Aluminum?
Aesthetics and feel. The finish matches the board more than polycarbonate, resin, or wood. It's also cool to the touch which we found refreshing over the past few weeks of use.

Join our Discord for the quickest updates & upcoming keyboard projects!

(Pre-Order) Vega Wrist Rest (Round 2) is estimated to ship out in late October/early November 2022.
Please note that this is a Pre-order, there may be delays and the timeline is just an estimate. By purchasing this, you agree that you will be charged right away and there is a 9% cancellation fee, no exceptions. 
*This is a Pre-order product, if you include any in-stock items with the order, they will be shipped at the same time, if you want the in-stock items ASAP, please order separately, thank you!*
Customer Reviews
Write a Review
Ask a Question
02/04/2022
DJ M.

United States
Stellar product!
I purchased one each of the black and white version of this aluminum wrist rest and I am thoroughly impressed by the final product. I am using them with a black Percent Canoe and a white KBDfans TOFU65 and the wrist rests complement each board beautifully.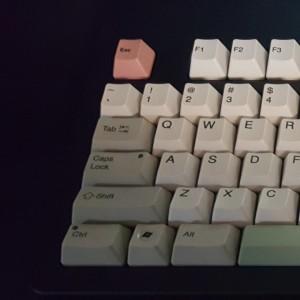 C
02/01/2022
Calvin

United States
High Quality
Exactly what you'd expect, the wrist rest arrived extremely well packaged, and it's in perfect condition. This is my first metal wrist rest, and I love it.
02/01/2022
Aram J.

United States
It's really good please make more
Still waiting on my Vega but quite taken with this beautifully simple aluminum wrist rest that will pair perfectly not just with that keeb, but I've been using it with my NK65 and NK87 as well and quite taken with how it feels on both. Cool and refreshing for my wrists!